Swimming Pool Heaters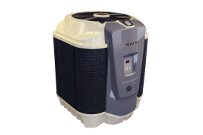 Aspects Pools offer a range of swimming pool heaters for efficiently heating the water for both swimming pools and spas. A pool heater is an essential part of any swimming pool installation in the UK to get get the most from your pool.
The first thing to decide when choosing a swimming pool heater is what energy source you are going to use. Gas pool heaters are generally the most recommended option but if gas is not available then an oil pool heater combined with a heat pump should be your preferred choice for larger pools. For small to medium sized pools (up to 10,000 gallons) electric pool heaters are the preferred options. All heaters can be used on most size pools, but these recommendations are based on the initial cost of the heater, its general running costs and the size of the pool concerned. We sell all the major brands, ZODIAC, JANDY, CERTIKIN, ELECRO, THERMALEC, CALOREX, VAPOREX, BEHNCKE. If there is something you don't see please contact us.