Winter Debris Pool Covers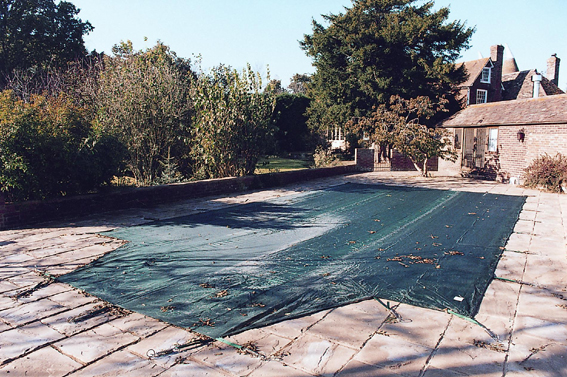 When the swimming season is finally over, for those with outdoor pools it is time to winterise and put your pool to bed until the spring.
During this period it is imperative to protect your pool. We have a variety of winter debris covers to suit all pool shapes and sizes which will help during this time. A good winter pool cover will reduce the damage that can be caused by autumn leaves and other nasty winter debris such as litter and dead insects entering the skimmer and filtration system. Winter debris pool covers are usually made from very tightly woven polyethylene fibres which allow the rainwater to seep through whilst keeping debris out. They are made 1ft (30cm) larger than the size of your pool and are tensioned with a series of springs and fixing pins which are completely removable when the pool is reopened in the spring. Click here to view the various types of fixings
The winter covers for inground pools are available in two grades, the Standard Winter Debris Cover & the Criss Cross Winter Debris Cover. The standard winter cover has straps attached to the edge of the material whereas the the top of the range criss cross type cover has webbing straps in one continuous piece that is sewn to the body of the cover and continues across to form the fixing on the opposite side. Thus the straps criss-cross the cover like a web and therefore provide extra strength and durability. We also offer winter pool covers for above ground pools. These are usually made from a tarpaulin but they are also offered in the standard debris material with a ratchet system.

Was: £643.00

Now: £350.00

Was: £2,091.00

Now: £1,300.00

Was: £846.00

Now: £500.00
Contact Us