Product Description
Details
The PureSpa is so far ahead in terms of strength, materials & specification than any other inflatable bubble spa we just had to add it to our spa line-up.
So what makes the Intex PureSpa THE leading bubble spa in the inflatable market? A great product rarely comes about by chance, the PureSpa is not an accident but more a desire by world leading brand Intex to lead this field of products as they do so many others - Intex can be found making camping air-beds through to inflatable canoes & even arm bands, if its inflatable Intex are likely to be represented. Taking experience from so many divisions of their company they have created a compelling argument for their inflatable spa over all others... The biggest breakthrough has come in the form of the material used in the construction of the I-Beams, the main structure of all inflatable spas. The recently patented system dubbed FibreTech exceeds the traditional PVC by a long way - here are some amazing yet proven statistics comparing FibreTech to previous PVC I-Beams...
70% lighter
31% increase in tensile strength
77% less stretching
Better final quality This improved I-Beam means the PureSpa is safe to operate at an internal pressure of 1.5psi, nearly double the norm. This increased pressure means vastly superior strength & shape retention. In fact during testing Intex applied 70kgs to the wall of the PureSpa & reported a deformation of only 9%, out of all the other models considered markets leaders, the nearest achieved 21%. A high internal air chamber pressure is achieved using FibreTech, giving unrivalled strength but also having a burst resistance nearly double that of its competitors! Check out the images of this test to see the evidence... We have hidden the details of the models tested, the last image is of the PureSpa...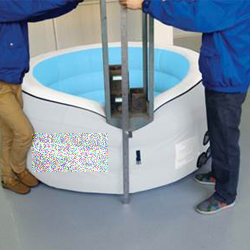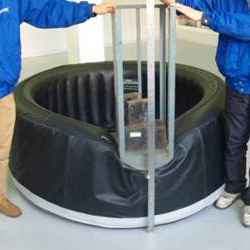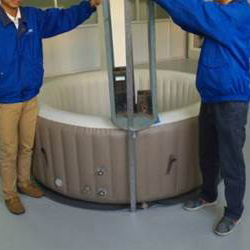 Why Buy a PureSpa? The inflatable cover with its tight fitting ring seal & supplied insulative base provides maximum heat insulation. The FibreTech I-Beam structure and the extremely hard wearing shell material makes the PureSpa much more rigid and durable than other inflatable spas on the UK market. - Take a look at the images to see the proof! Various modes - Filter only / Heat & Filter / Bubble / Filter & Bubble & most importantly Heating & Bubble simultaneously! The 12 month UK warranty is managed within the UK by trained staff with real product knowledge! This ensures a fast and efficient service in the unlikely event that you experience a problem with the product. 1514 litres per hour filtration system with the most efficient cartridge filter found in a bubble spa 0.9 HP blower delivering warmed air via 120 micro air jets to give heated air injection, not cold bubbles like many others The only bubble spa to exceed both CE & GS approvals & standards through the application of the most comprehensive electrical short out protection systems - 10 milliamp (10mA) PRCD equipotential Grounding Connection Inflatable Spa Specification Seats: 4 Inflated Size: 191cm x 71cm Inner Diameter: 147cm Water Capacity: 795 litres Filled Weight: 1036kg Dry Weight: 45kg Colour (Inner / Outer): Creme / Tan Self Draining: Yes Setup / Inflation Time: 5 minutes Instruction DVD: Yes Construction: Single valve inflation & patented I-Beam structure / 48 vertical FibreTech beams Shell Material: Triple layered & laminated PVC @ 0.84mm or 33.6 guage Spa Base: PVC & Foam insulation base Inflatable Cover: Yes Additional Cover Insulation: Extended & tight fitting ring skirt Cover Security: Pinch release straps Control System: Separate control system - heater and pump housed together externally for ease of maintenance Display : Colour LCD Heater: 2.2 KW water isolation type - Stainless Steel - Double Insulated & Double Waterproofed Rate of Heating: 1.5 - 2.5 OC per hour Air Blower & Jets: 0.9 hp Blower with 120 Air Jets Filtration Rate: 1514 litres per hour Filter type: Debris housed cartridge Filter specs': - 105mm x 75mm - 110 pleats - Surface area 304mm2 - Paper weight 130gm2 - Actual efficiency 72% Electrics: 240v / 13 Amp with 10 milliamp (10mA) PRCD Plug Safety: Equipotential Grounding Connection Testing & Approvals: 2013 CE (EU) & GS (USA) Shell Warranty: 12 months Electrical Warranty: 1 Year Parts & Labour Carton: 31½" x 22¼" x 20½" / 80cm x 56.5cm x 52cm Carton Tube: 8.30 ft³ / 0.235m³ Manufacturer: Intex - Long Island, California Country of Manufacture: China Available in UK Since: 2013