Swimming Pool Alarms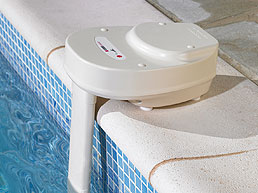 Keeping an eye on your children constantly can sometimes be difficult. Nevertheless in can only take a split second for a disaster to happen.
In order to give you some piece of mind, there are various swimming pool alarms available. On the rare occasion your child or pet happens to fall into the water you will be alerted of this and are then able to react accordingly. Without this warning you may never know this has happened.
In France it is now compulsory to have a pool alarm and/or a safety pool cover on the pool. It will probably not be long until the UK implement a similar legislation, however irrespective of law it is always best to be safe.
Important Reminders
1) The best form of protection is surveillance by a responsible adult, that no alarm system could replace. Remain vigilant at all times and watch children at all times whatever the alarm or safety system installed.
2) To ensure that the system is working correctly, test the alarm regularly following the recommendations provided by the manufacturer
| | | | |
| --- | --- | --- | --- |
| Out of stock | Out of stock | | |
Contact Us